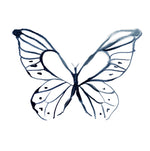 Over the past 3 years since making Art of Marina my full-time business, I've been inspired by hundreds of women; some have guided me and carried me through this entrepreneurial journey of being an artist. They are the ones who helped me grow my wings…
And now it's time for change. Starting with a new Art of Marina logo that honours them all, because this is no longer just about me.
I am so grateful for my first logo, my sweet little heart.
But I've changed, and so has my dream. So, I invested in another designer — I invested in myself and my business.
You see, I often design logos myself, so this was a leap of faith. My business coach, Jane — who has changed my life and I'll introduce you more in-depth to her soon — introduced me to Miranda of Moonstone Creative and I fell in love with their process and team.
I'm glad I trusted my gut, because this was the beginning of something magical. The beginning of me trusting in myself and in the universe.
It wasn't just a logo they were creating for me; it was the spirit of the brand.
Miranda pointed out that my very own beautiful, happy, HAPPINESS BUTTERFLY is what should be the Art of Marina logo.
Huh. Interesting. Was my new logo, right there, all along?
While I was like YES! Done and done… I still had to let it sit. And as time went on, I knew the essence was there. But I wanted to create something more substantial, more intentional, iconic and something that resonated deeply with the transformation of oneself. So, not just the Happiness Butterfly, but life in an ongoing series of transformations. It was more than just the Happiness Butterfly; I just had to look a little deeper.
To be clear, the Happiness Butterfly was the hardest and most painful part of my story. 
To be happy was to accept and let go of all the things that hurt me. Which as a very intensive process in itself, that'll be explored in my soon-to-be-released book!
But I have learned that it is like that in business too, for us to really succeed and find our niche, we must accept and grow from the hardships so that we can move forward smarter, stronger and lighter.
We can be great at things that don't come easily. By breaking through barriers, asking the right questions, the uncomfortable ones, and by facing our truth. Slowly and surely, we can do whatever we want to with this beautiful life. We can do what we love without guilt, remorse or shame. We can be free — and happy.
And for me, part of that transformation means that I am no longer relying on just my own strengths. I now ask for help with things that are hard. Things that I struggle to understand. Things that were blocking me from becoming the entrepreneur that I want to become so that I, too, could be great. So that I could be the person I admire in others. And so that I can then inspire others. 

Ultimately: The Butterfly Effect. 


So, the Moonstone team came up with out new written logo:


And I loved it. Accepted the change and felt aligned.
I took a closer look at the Happiness Butterfly and I saw it, the human body was right there all along. Reaching out and growing wings. So I grabbed my brush and painted just that. And the new butterfly logo was born: aka Sub Mark.


I also created a vector version for a clean bold stamp.
It is the depiction of a human form growing wings. She is reminder for all of us. It's time to grow our own wings, to prove we can rise above; we can fly! With grace, dignity and knowing that it wasn't ever easy. But we made it.  That we can do hard things, and that it was always worth it to follow our dreams.
This year with the help of the stars, the planets, good intentions and my magical and sacred tribe of beautiful women, 2022 is going to be a good year. And it is truer than true because Jupiter the planet of miracles and luck will be dancing through Pisces throughout most of the year. Jupiter will guide, protect and bring joy to our lives! He acts like a secret guardian angel, ensuring you have hope and can make your dreams come true. So, get your wish checklist ready, and grab your dream vision board: It is time to make magic happen!
So Welcome to the Butterfly Effect! I am so happy that you are here! Stay tuned for more true stories on how my art comes to life, the why and the how.
And I would love to know what you think of this new symbol, brand mark and LOGO for Art of Marina 2.0 — drop me a line, reach out on social media. Let's move forward, always, together.