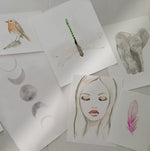 The Birthday Paint Challenge
A month ago I suddenly had this impulse: Why not try and paint every day until my birthday?
I felt a little rusty and wanted to loosen up on my brush work — let go a bit more — and practicing every day could be the best way to do that! And making a bunch of new art is always a bonus. It could be like a birthday present to myself.
February is one cold month up here in Canada, so what better way to nurture my soul then to light the fire, slow cook meals, and paint. For once, I didn't even plan it out. I wanted to go with the flow, paint whatever I felt called to paint that day. 
One of the things I started in 2021 was working on my organization and routine, which can be incredibly hard as an entrepreneur. So establishing a daily painting routine wasn't going to be easy. But I stayed true to my intention, and guess what? Every day, it got a little bit easier to pick up that brush. To let go and go with the flow.
And as I started to let go, I found I was making space for the new. Like my new logo and direction for Art of Marina in 2022. The Butterfly Effect Blog Here
Since moving to the Okanagan during the pandemic in 2020, so much has changed in my life. From the corporate go-go-go of my city life to slow-living amongst the valley trails, eating farm-to-table and watching sunsets over wine country landscapes…. There has been far less traffic, and much less need for things.
While I don't yearn for certain things anymore, art is one thing I will never let go of. The simple practice of it has far more benefits than that material outcome sometimes. You see, as an artist, I have this fear that what I've already painted is perhaps the best I'll ever do.
Silly, right? 
I think we must honour art for the time it was created, and trust in divine timing. Because it's all a journey. All my paintings are a part of my journey and represent different things, places, times… And this particular moment in time isn't easy for any of us. So many things keep going wrong in this big, wide world of ours. 
So here I am today, at the end of my first annual #birthdaypaintchallenge, trusting that the inspiration I've felt over the past month created not only new art but new discoveries and new beginnings. 
This practice of painting daily was so unique. I genuinely trusted my gut and each day was something different and now I have SO much new art to share with you! Flowers, dragonflies, fighting fish, seahorses, seashells, seaweed, feathers, birds, a rose, moon phases, ladybugs, fashion faces, cherries, elephants, Vogue Magazine covers, lots more butterflies, and more… It was hard to pick only 41!


Giving Back: Ukraine
And so for my actual birthday this year, and every year to follow, I want to use this very day to give back. I am so lucky to be able to have the peace and freedom to be able to have sat down every day and perform this little painting ritual.  I've been gutted in my soul of the war happening in the Ukraine. So I am offering 41 pieces of my birthday art to help medical aid and humanitarian relief for the front line workers in the Ukraine, fighting for their lives. Check out the collection HERE


Help me give back! This limited edition collection Giclées, signed and numbered prints, and originals available to purchase here, and a portion of the proceeds will benefit Help Unite Ukraine (UHU). Also see UHU Facebook.
You see, my family is Croatian and we faced the brutal and heavy pain of war in the '90s. Even though I was only a child, it affected me deeply. I still remember coming home from school, seeing my father's heavy eyes and the news of my fallen cousins... It's a sad memory that I would never want anyone to face. Yet, here we are three decades later, facing such news again. My heart goes out to the Ukraine leaders and fighters, I commend your tremendous bravery. I stand with you, pray for you, and it would be a blessing to be able to donate in your honour.
I am forever grateful for my gifts, and can only hope to give back in some small way. In the past, I've sold my art to contribute to the Canadian Cancer Society, Nia Centre that promote an appreciation of arts from across the African Diaspora and the IRSSS -  Indian Residential School Survivors Society. 
Thank you for reading and for being a part of my community! I am so grateful that you are here, making it possible for me to continue to make art, and for helping make my birthday wish come true of helping those really in need. Sending love and light.