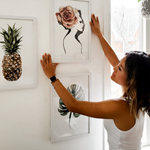 How To Properly Frame + Hang Artwork
Choosing a Frame
I often get asked by clients what the best frames for my prints are. 
My favourite to date are the Gallery Matted Wood frames from Bed Bath & Beyond. Made of solid wood, they offer a clean look that doesn't detract from the painting, while the width of the frame simultaneously gives it a more elegant look. My personal preference is white because again, the frame acts as more of a subtle accent.
It comes down to personal preference. 
You can also choose a frame colour that matches the room in which you're hanging it or accentuates a certain tone in the painting. Finding vintage frames at a second-hand store is another way to express your personality and individualize the print you're hanging.
How To Hang a Print or Painting
No matter what, let's agree just getting it in a frame and up on a wall is a feat in itself! Hanging artwork can feel daunting. Which is why I reached out to home staging expert and decor enthusiast Susan Sun, a realtor in Toronto, Ontario, whose decor series features some excellent advice on hanging artwork. She is amazing, you have to check her out on instagram and: Right at Home Realty
She created all the amazing slides below. Amazing, right?
Give yourself a solid chunk of time and set yourself up with the right tools: a measuring tape and either a pencil or painter's tape. Take a deep breath, then follow the illustrated steps below to mount your artwork. 

Tip: Not 100% sure it's the forever spot for your print? Use Command Hooks! You'll be able to move the artwork without permanent damage to your wall.

And have fun! You got this:)