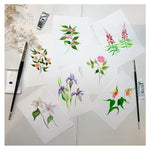 The Provincial Flowers of Canada
 Flowers make my heart sing.
I love that they can represent love, friendship, happiness, ceremony, and birth. They also represent countries and symbolize ways of life. I am a proud Canadian. I'll be forever grateful that my family immigrated from Croatia and I was able to be born and blossom here in the Great White North, one of the most beautiful countries in the world. Canada is so unique and diverse, so welcoming, generous, kind and enriching. Our country's vastness leaves so much room for an incomparable variety of wildflower beauty to grow, live and thrive… Just like all of us who inhabit it alongside the flora.
Each provincial flower, from the Pacific to the Atlantic, the Artic to the Temperate zone, flourishes in its native province or territory. Their different environments only making them more unique and special.
As an artist and proud Canadian designer, I wanted to pay homage to Canada this year for Canada Day.
This past year was the first of many years that I didn't get to travel to other parts of the world. But I did move from Ontario where I have lived for the past decade to return to my home province of British Columbia. I made the move an exploratory road trip, re-discovering "my own backyard" as they say. The journey inspired me to learn about each provincial flower, and paint them, naturally.
And so, WILDFLOWER was born. A Limited Edition print featuring each provincial flower, all together, symbolizing unity in a nation on paper and my signature silk garments. This print is so close to my heart, that I wallpapered my Gallery in Penticton with it. A reminder that there's beauty in the wild and free, and that we are all connected through our differences.
Perfectly Canadian.
The WILDFLOWER Print Breakdown
13. Yukon - Fireweed Epilobium angustifolium
While I'm not sure how this flower could be called a weed when it's so pretty, the Yukon chose the Fireweed as its floral emblem in 1957. The Fireweed is a tall plant with many small, dark pink flowers and grows in places like clearings or next to roads and rivers. It's one of the first plants to grow after a fire, hence the origins of its name.
The flower is edible and is also a source of vitamin c and pro-vitamin A.
12. Saskatchewan - Western Red Lily Lillium philadelphicum
Saskatchewan selected the Western Red Lily as its floral emblem in 1941. This tall, bright red flower grows in meadows and light forests. This perennial lily species is native to North America and produces vibrant orange or red flowers between June and August. The Western Red Lily is listed as an endangered species and the Provincial Emblems and Honors Act prohibits its picking or uprooting
11. Quebec - Blue Flag Iris Iris versicolor Linné
The Madonna Lily was Quebec's flower for 36 years. Reminiscent of the heraldic fleur-de-lis on Quebec's flag, the Madonna Lily is the symbol of French culture in France and Québec. However, because it doesn't grow naturally in the province, Québec chose a new flower that grows throughout the province in 1999: The Blue Flag Iris, a perennial with delicate blue-purple petals.
10. Prince Edward Island - Lady's Slipper Cypripedium acaule
Prince Edward Island adopted the Lady's Slipper as its floral emblem in 1947. The orchid gets its name from its petals, which are shaped like a woman's shoe. It grows in the cool shade of the forest and blooms in the springtime, producing a single pink flower.
9. Ontario - White Trillium Trilliium grandiflorum
Ontario chose the Trillium as its provincial flower in 1937, featuring the simple white beauty on its provincial flag. This white flower grows in the forest in the springtime and is called the "Trillium" because of its three petals and three leaves: "Tri" means three.
 8.Nunavut - Purple Saxifrage Saxifraga oppositifolia
Nunavut's purple Saxifrage thrives in cold weather. It is a small, bright purple edible flower that grows like a mat over rocks and gravel, and can be found all over Nunavut, which is why the territory chose it as its floral emblem in 2000.
7. Nova Scotia – Mayflower Epigaea repens
Nova Scotia selected the Mayflower as its floral emblem in 1901. Early American settlers named these pretty little pink and white blooming shrubs "Mayflower" after their ship, which carried them to North America in 1620. Mayflower blooms up and down the Eastern seaboard.
6. Northwest Territories - Mountain Avens Dryas octopetala
The Northwest Territories selected the Mountain Avens, a sturdy, short white flower with small leaves that's able to grow in high, rocky ground, as its territorial flower in 1957.
5. Newfoundland and Labrador - Pitcher Plant Sarracenia purpurea
The Pitcher Plant is the official provincial flower of Newfoundland and Labrador. Newfoundland selected this carnivorous plant as its floral emblem in 1954, called the Pitcher Plant because part of it can fill with water like a pitcher to trap insects, which the plant then eats. The Purple Pitcher Plant thrives in the cold, temperate climates.
4. New Brunswick - Purple Violet Viola cucullata
The purple violet, scientifically known as Viola, is native to the temperate Northern Hemisphere. With its heart-shaped leaves and flowers that rise from the ground, the colors of the viola flowers range from violet to shades of blue, white, yellow and cream. The Purple Violet is the national emblem of New Brunswick.
3. Manitoba - Prairie Crocus Anemone patens
The lavender-coloured Prairie Crocus has been Manitoba's flower for nearly a hundred years. Children in the province chose this pretty little flower in a vote in 1906. It blooms very early in the spring, sometimes even before all the snow has melted.
2. British Columbia - Pacific Dogwood Cornus nuttallii
The Pacific Dogwood has been British Columbia's floral emblem since 1956. These big, white flowers bloom on tall trees in April and May.
1. Alberta - Wild Rose Rosa acicularis
Alberta school children chose the pink, prickly Wild Rose as Alberta's official provincial flower in 1930. The deciduous shrub grows across Canada from Québec to British Columbia.