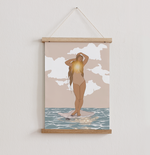 Reaching Beyond: A Divine Collaboration with Natalie Kehren
A Divine Collaboration between Two Creative Souls: Birthing the Reaching Beyond Illustration Collection.


Sometimes you meet someone, and your life changes forever. For the better.
That is how I feel about Natalie Kehren.


Our journey began in 2017 when I became a vendor at Natalie's Wellness Market. Little did I realize that this chance encounter would be the inception of a profound, multifaceted journey—spiritual and professional, leading to a deep and magical friendship and partnership."





In 2018, I faced a pivotal tragedy that led me to seek solace in Natalie's healing program. She just turned up in my life and basically changed it forever. As a teacher and guiding light, Natalie played a crucial role in helping me heal on a deeper level than I had ever imagined.
My healing journey extended beyond the initial trauma that brought me to Natalie's door. Together, we unearthed and mended years of buried wounds and despair that had been holding me back, even though I hadn't even been aware of it.
Inspired by my transformation, I penned and shared my story, "The 9 Magical Butterflies," chronicling my path to self-acceptance, self-love, and gratitude for my blessed life, no matter how unperfect it has been.
A significant part of my healing journey is owed to Natalie and her program. I will forever be grateful. And here we are almost 5 years later and we have collaborated on a beautiful project that I am so proud of and so excited to share.
When Natalie embarked on creating her "Reaching Beyond Journal," she invited me to illustrate the artwork for each chapter that would embody and channel healing light into every facet of the journal and the lessons within the workbook.



Having graduated from Natalie's program, I understood exactly what needed to be
created and the inspiration flowed. I believed in Natalie's message. I was honoured to depict that.
The Illustrations:
We seamlessly collaborated – Natalie explained her visions and each piece of art effortlessly from my hands, leading to the co-creation of seven chapter illustrations and a sacred cover art for the healing journal, which is now available Here.


The book was so beautifully put together by Miranda from Moonstone Creative – a very talented designer who I admire so much.




We decided that the artwork really was so special and sacred that its healing power should not be confined to the pages of a journal. It should be on the walls of anyone who resonates with its magic. With this in mind, we decided to release the art one piece at a time, as a limited-edition print series, signed and numbered by both Natalie and I.
Each piece in the collection represents a different step in the creative healing process. Every woman depicted symbolizes various facets and layers of our healing light and power, radiating positive intentions.




This art possesses the ability to ignite healing in those who behold it. Each piece is infused with love and magic, making this sacred collection more than just wall decoration. It offers the potential for reaching beyond, for discovering the greatness within all of us that simply needs to be set free.




It really is a divine collaboration! The book was so beautifully put together by Miranda from Moonstone Creative – a very talented designer who I admire so much, and her team.

I am so grateful that the universe brought me to Natalie and that we were able to co collaborate on this artwork that I feel will help heal and inspire others. Is there a greater honour than that? I feel so blessed and my heart is bursting with joy and gratitude to get to share this with you.

Our first print release is Wednesday Nov.8th, 2023.
There will only be 50 made, signed and numbered.

Learn more Here.
And if you are seeking any kind of guidance on how to heal your past and rewrite your future start your healing journey by unlocking your true potential with Natalie Here.
Natalie helped me do just that I am forever grateful.